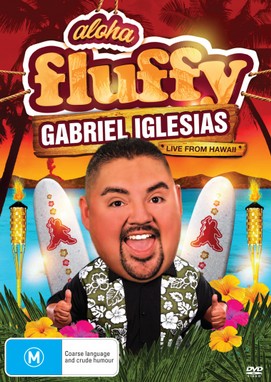 'ALOHAAAAAA! Gabriel Iglesias is back and this time he's doing it Hawaiian style. The Comedy Central star is not showing any signs of slowing down after this amazing performance filmed in front of a packed house at the Hawaii Theatre. Aloha Fluffy is sure to be a comedy classic, making this extended and uncensored special a must-own.'


Gabriel Iglesias is truely a legend in the world of comedy. Without doubt he is one of the best known comedians in the world, who provides audiences with some of the funniest and best quality comedy material you'll ever see. Fluffy is back in his third live stand-up DVD filmed in Hawaii to a packed house. The audience are in a fantastic mood, maybe a little too over the top and therefore distracting but I must admit, being in the crowd that night would have been awesome!

Gabriel strolls onto the stage in his signature Hawaiian style shirt and gets straight into his hilarious comedy material. Over the hour and a half of the main feature, Gabriel talks about Hawaii, an ultimate prank he pulled on his son all over some deodorant, touring around the world and in particular the Middle East (it's not what you think!), and to close the show, a hilarious prank he pulled on fellow comedian G Reiley with a racist gift basket...wait for the tail of what happened on the other side of the story!

And for those who think 1.5 hours isn't enough, there's a crap load of extras including a hilarious tale about Gabriel's role in the Channing Tatum film Magic Mike, in which he plays a DJ. There's also a great set from comedian Alfred Robles, behind the scenes with Fluffy plus some extra unseen bits cut from the main feature.

Overall, Gabriel Iglesias has delievered again with this hilarious take on life and all that it entails. No wonder this guy has been such a great success globally, he is a genuinely funny guy who deserves everything he's got!


★★★☆☆
Gabriel Iglesias - Aloha Fluffy can be purchased on DVD NOW!
Visit comedy DVD Gods PUNCHLINE on Facebook now!