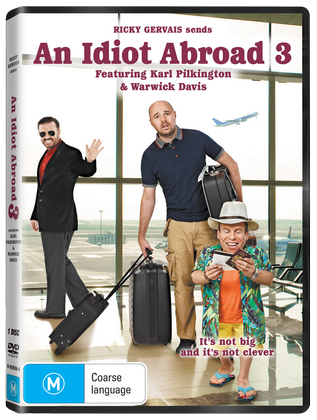 'An Idiot Abroad is a British travel documentary television series, as well as spin-off books published by Canongate Books, created by Ricky Gervais and Stephen Merchant and starring Karl Pilkington. The ongoing theme of both the television series and the books is that Pilkington has no interest in global travel, so Merchant and Gervais make him travel while they stay in the United Kingdom and monitor his progress.'


Comedian Ricky Gervais is back for the final series of the hit comedy/travel series An Idiot Abroad. For this short series of 3 episodes, Karl Pilkington travels alongside Warwick Davis as they travel from Venice to China in quite a humerous fashion!


In the third instalment of the hit series Ricky Gervais has persuaded his friend Karl Pilkington to embark on a new adventure following in the footsteps of the great explorer Marco Polo. But this time he'll have company. Ricky is sending Warwick Davis to join Karl on the 5000 mile journey from Venice to China.

Along the way their relationship is tested as they attend a traditional masked ball, live with Romani Gypsies, act in a Bollywood film, and attempt to climb a sacred mountain. How will he cope with Warwick's enthusiasm for the local traditions and culture, and will they still be talking when they reach the end of the route?

To be honest, I was expecting a little more than what was delievered with this short collection of episodes. I guess having previously not seen any episodes of the show before the concept was a little bit confusing to me. Pilkington is truely a very funny man whose comedy is so unique its too good to be true, and Gervais is hilarious in this setting. Fans of the previous two seasons of An Idiot Abroad will, of course, love the final series of this highly popular program. For those who haven't seen the show before, grab the NEW COLLECTION and dig into series 1 and start from there. I'm sure you'll apreciate it more (it's what I'll be doing next!).


★★.5☆☆☆
An Idiot Abroad 3 can be purchased on DVD or BLU-RAY NOW!