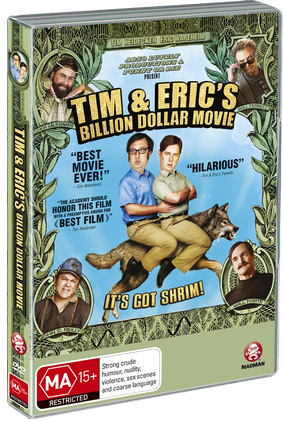 'An all new feature film from the twisted minds of cult comedy heroes Tim Heidecker and Eric Wareheim ("Tim and Eric Awesome Show, Great Job")!'


Everyone's favourite comics of the weird and wonderful Tim Heidecker and Eric Wareheim, creators of Tim & Eric's Awesome Show, Great Job! on [adult swim], are back with the truly hilarious and cooky new film, Tim & Eric's Billion Dollar Movie.

Tim and Eric are two filmmakers who are given a record-setting $1 Billion budget to make a movie, funded by the Schlaaang Corporation. The two waste all of their money on the making of 'Bonjour, Diamond Jim' - a three-minute film starring a Johnny Depp impersonator, and soon leave Los Angeles in fear that they will be sent to prison or hunted down by the Schlaaang Corp. After seeing an advertisement for it in a bathroom, Tim and Eric decided to renovate the S'Wallow Valley Mall in the hopes that they will make back their billion dollar debt. While trying to refurbish the mall, they must deal with vagrants (such as a man-child named Taquito, played by John C. Reilly), bizarre stores (such as Reggie's Used Toilet Paper Discount Warehouse), and a man-eating wolf that stalks the food court. As for what happens in the rest of the film, you'll have to see for yourself - I don't want to give any more of the hilarity and oddity away!

The film also features some great cameos from screen legends including Robert Loggia, Wil Ferrell (Anchorman), John C. Reilly (Check It Out! with Dr Steve Brule, Wreck It Ralph!), Jeff Goldblum and Zach Galifianakis (The Hangover) just to name a few, as well as crowd favourites from the Awesome Show! including David Liebe Hart, James Quall and Palmer Scott (the Sit On You guy!).

The DVD also contains a stack of special features including an audio commentary from Tim & Eric, deleted and extended scenes, interview with Tim & Eric and key cast members, photo galleries and, my personal favourite, a shrim dance screensaver!

All-in-all, being a big fan of Tim & Eric's previous works, I absolutely loved seeing what the guys could do outside of an eleven minute TV series format. However it is definitely a film for the fans, and those who don't understand their humour or plainly don't find it funny probably won't enjoy this one as much as I did. As goes with all of Tim & Eric's work, you'll either love it or hate it, and I guess it's just lucky that I'm one of those few who love it! Non-the-less, still check it out, I'm sure you'll still get a few chuckles throughout, even if it is to see a favourite actor of your's cameo in one of the many hilarious scenes.

I would have to agree with Chris Krapek from The Huffington Post who said, "The funniest film I've seen in years". I mean, it has shrim...what more could you want?!


★★★★☆
Tim & Eric's Billion Dollar Movie can be purchased on DVD NOW!